如果中介公司说他们能帮助你申请到中国政府奖学金,那一定是在骗你。我们将会根据你的综合成绩来决定你是否可以获得奖学金。
If the intermediary company says that they can help you apply for the Chinese government scholarship, it must be cheating you. We will decide whether you can get the scholarship according to your comprehensive score.
Find the major you are applying to the list of majors. The list of majors Conditions for admission
2. 查阅导师联系方式,下载导师邀请函和导师评审意见,给你选择的导师发邮件,介绍你自己的学习和研究背景和学习成绩单,如果导师同意接收你,请求他给你写评审意见和邀请函并发给我们。
Consult the tutor's contact information download the tutor's invitation letter and the review comments.Send an email to the tutor of your choice.explaining your study and research background, as well as your academic transcripts. If the tutor agrees to accept you,please ask him to write the review comments and invitation letter to you and send them to us. Invitation letter Review comments Contact information of tutors
3. 访问太原理工大学招生系统完成注册后开始填报申请。 报名指南 个人简历模板
http://is.tyut.edu.cn 或者 https://tyut.17gz.org
Visit the recuitement portal of Taiyuan University of Technology to complete the registration and start to fill in the application. Registration guide CV Health instructions and commitments
4.请确保你的体检时间是在申请之日前6个月以内,请下载" 健康须知与承诺 ",本人签字后扫描上传到体检报告位置。
Please ensure that your physical examination time is within 6 months before the date of application. Please download the "Health instructions and commitments ", scan and upload it to the location of the physical examination report after your signature.
5. 招生办公室将核查你的申请材料,确定你的入境资格和录取资格。招生办公室将通知你加入招生微信群。
The admission officer will review your application materials. If you have the entry qualification and admission qualification,the admission officer will notify you to join the wechat group of admission.
6. 当您收到我们要求您支付注册费的电子邮件时,请在一周内支付注册费。请在汇款说明中注明您的申请号和汇款目的。成功支付注册费后,请将付款截图上传至系统。支付报名费后,招生办公室将发放预录取通知书。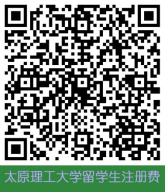 Wechat code scanning payment
When you receive our email asking you to pay the registration fee, please pay the registration fee within one week. Please indicate your application number and remittance purpose in the remittance instruction. After the successful payment of registration fee, please upload the payment screenshot to the system.
The admission officer will issue a pre-amdission letter to you after the payment of your registration.
6. 等待招生办公室完成学生入境申请的上报后获得JW202表和录取通知书。录取通知书上将说明你所获得的奖学金类型和等级。
After the admissions officer completes the students' entry application,you will receive the JW202 form and the formal admission notice. The admission notice states the type and level of scholarship you won.
7. 你可以同时访问中国政府奖学金招生网站完成报名。http://www.campuschina.org 中国政府奖学金专业目录
You can visit the Chinese Govement Scholarship admission portal complete the application. CSC Programs
8. 联系我们
Contact us:
Address and Contact Information
Institute of International Educational Exchange, Taiyuan University of Technology
Address: 79 West Yingze Street, Wanbailin District, Taiyuan ,Shanxi Province, China
Office Tel: 0086-351-6010232 Fax: 0086-351-6018848
E-mail: ciee@tyut.edu.cn
Contact Teacher Wang wangyi01@tyut.edu.cn (CSC CIS ) Teacher Liu liunannan@tyut.edu.cn (PhD,Bachelor) Teacher chenbo01@tyut.edu.cn ( Master)